Witam!
PROBLEM:
Do godzin meczów podanych w terminarzu dodaje mi +2 godziny.
Np. Ustawiam w terminarzu godz. 15:00 - na stronie wyświetla się 17:00.
PODEJRZENIA:
Przyczyną może być to, że w ustawieniach projektu JL mam strefę czasową Amsterdam (screen).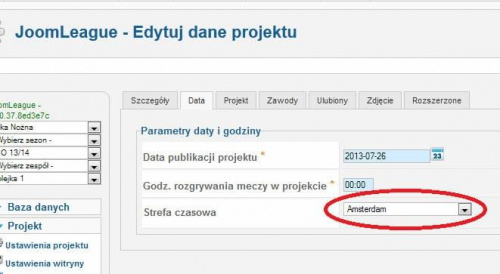 Niestety mimo, że zmieniam na strefę czasową Warszawa (Warsaw) i zapisuję to projekt pozostaje przy strefie czasowej Amsterdam.
Przy tworzeniu nowego projektu i wyborze strefy czasowej Warszawa jest to samo - ustawia się Amsterdam i nie da się zmienić
PYTANIE:
W którym miejscu w bazie danych (czy też innym) można to zmienić np. ręcznie?
Pozdrawiam i z góry dziękuję za pomoc!